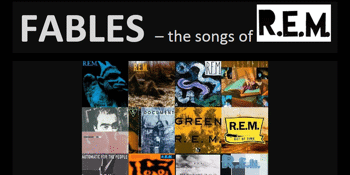 Code One
Fables – The Songs of R.E.M
The Heritage Hotel, Bulli (Bulli, NSW)
Friday, 3 May 2019 6:00 PM
It's been many years since they split, R.E.M., the stadium band that were entertaining, powerful & ground breaking. With a string of peerless albums running through four decades, rooted in the underground with their eyes on the soaring chorus R.E.M. remain as the band that saved American Rock.

This is the definitive tribute to one of the biggest bands in rock music. R.E.M. built a towering back catalogue that reached from the addictive highs of 'Shiny Happy People' down to the reflective darkness of 'Everybody Hurts', pop rock brilliance of 'The One I Love' covering all else in between. We tend to lean on the earlier period and move up to the album 'Monster" that featured massive radios hits the likes of 'Orange Crush' & 'What's the Frequency Kenneth'
We feature many songs from albums such as 'Murmur' 'Life's Rich Pageant' 'Document' 'Green' 'Out or Time' as well and select songs from 'Automatic for the People' and well as others… says creator & lead singer Chris Cooke. Chris goes on to say…'I became hooked and even mesmerized by Michael Stipe's lyrics & phrasing. With complex yet also simple arrangements and a 'jangle' like no other band there was just something about them that had me a 'fan' from the onset.
Be it 'Radio Free Europe' 'It's The End Of The World As We Know it(& I feel fine)' 'So Central Rain' 'Pop Song 89' 'Finest Work Song' and so much more.. we are sure you will be given the full R.E.M treatment.
..and also - 'Something So Strong'-The Songs of Neil Finn which also kicks off this year around the traps.

R.E.M. was one of the first alternative rock bands. Their signature was a changing and reactive sound, from a guitar driven, unforced and intuitive beginning all the way through to their split on September 21, 2011.
We are fans, we are pro muso's, we play REM songs well!
We are 'Fables - The Songs of REM'