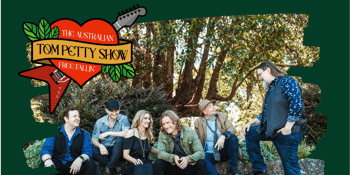 Code One Presents
"Free Fallin" - A Tribute to Tom Petty & Songs of the South
The Heritage Hotel, Bulli (Bulli, NSW)
Saturday, 9 July 2022 6:30 PM
Australia's own Tom Petty Show pays tribute to one of Rock's most prolific singer-songwriters and his legendary band The Heartbreakers! The show delivers an unforgettable setlist, and celebrates The Heartbreakers hit music that has defined Rock Radio and have been airwaves staples for decades.
The Australian Tom Petty Show: Free Fallin', has carefully curated songs from Tom Petty and The Heartbreakers 1976 self titled debut LP through to their final album before Tom's untimely death in 2017, including a selection of The Travelling Wilburys favourites. Performing songs such as Learning to Fly, Won't Back Down, Runnin' Down a Dream, Breakdown, Refugee, Free Fallin' and many more, the band remains true to their namesake's core and will take you back to a time when Tom controlled the airwaves.
The Australian Tom Petty Show: Free Fallin' is fronted by Gav Walsh, a long time devotee who has channeled the legendary Tom Petty's iconic sound, alongside a band featuring some of Sydney's most experienced musicians, including nationally acclaimed drummer Luke Thatcher, who hails from Tom Petty's hometown, Gainesville, Florida, USA.
Head on down to the Heritage Hotel to hear a faithful tribute to icons of USA Rock n Roll.