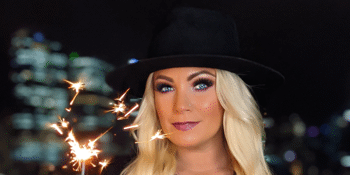 Code One
Hayley Jensen - EVENING SHOW
The Heritage Hotel, Bulli (Bulli, NSW)
Sunday, 13 December 2020 6:30 PM
Award winning singer-songwriter, Hayley Jensen is hitting the road this December for a stripped back tour to celebrate the release of her brand new single
'Fireworks'
!
The 'Australian Idol' finalist & 'The Voice' alumnus was described as 'the whole package' by coach Kylie Minugue, with her voice labeled 'flawless' and 'fantabulous!' by Will.I.Am. Hayley has since performed on stages across the globe - from Canada & the USA, to UK, Europe & the Middle East.
Hot on the heels of her biggest hit to date, '
Breakin' Hearts'
, comes the power pop-country follow-up, '
Fireworks'
. Penned during lockdown with Aussie expat and Billboard Country #1 songwriter,
Phil Barton
, the song features the soaring, powerhouse vocals we have come to expect from Jensen.
"'It's all about the spark & electricity of finding love! That feeling (like fireworks!) that lights you up inside when you're with the ones that you cherish! As a year filled with so much isolation draws to an end, I really wanted to capture the precious feeling of being TOGETHER again and share that message of love!!" -
Hayley
Released in August this year,
'Breakin' Hearts'
set career highs across the board for Jensen. Debuting at #1 on the iTunes Country charts, it was her first song to feature in The Music Network Airplay Chart, becoming the #1 Australian song on Country Radio. It also cracked the Top 40 (#32) CBC Music Country Radio charts on SiriusXM digital radio across North America.
The track was added to the sought after 'Fresh Country' Spotify Playlist, and to date has racked up over 130,000 streams. The unique animated music video was premiered exclusively on Foxtel's CMT and has been viewed almost 75,000 times.
Earlier this year, Hayley released a stunning duet of Sarah McLachlan's
'Angel'
with legendary country star, Beccy Cole, which subsequently hit #1 on the iTunes Country Chart. The song was a special project for Hayley, and a fan favourite from her time as a top 4 finalist on the second series of Australian Idol.
2019 was full of highlights for Jensen, as she toured her ARIA #3 Australian Country album '
Turning Up The Dial
' across much of Australia and Canada. Performing at the Calgary Stampede & Dauphin's CountryFest, the only Australian to feature on both line-ups.
Hayley is now working on a new album to be released via Social Family Records in mid 2021. The '
Fireworks Tour'
will feature her latest singles, hit songs from past albums, plus showcase brand new, unreleased material! A consummate performer and storyteller - this is a show not to be missed!