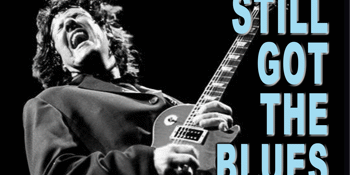 Code One
"Still Got the Blues" The Gary Moore Experience
The Heritage Hotel, Bulli (Bulli, NSW)
Friday, 15 March 2019 6:00 pm
"Still Got The Blues" The Gary Moore Experience pays homage to the music and guitar virtuosity of Irish born guitarist Gary Moore. With 21 studio albums and 8 live albums there's no shortage of great music that Gary had produced before his passing in early 2011

The band "Still Got The Blues" has brought together some of Australia's most talented musicians who were also the core line up from the Gary Moore Remembered 2016 Sydney showcase event at The Factory Theatre featuring Kevin Borich, Mal Eastick, Dave Leslie and the late Phil Emmanuel. "Still Got The Blues" The Gary Moore Experience delivers the best of Gary Moore.

Playing the songs that made him a house hold name, and also giving the audience the ultimate live experience playing Gary's most notable and indentifiable album "Still Got The Blues" in it's entirety. Then moving into Gary's 80's rock era including Thin Lizzy.

THE BAND DAN MARKOVINA - Vocals (George Michael Relived – Michael Buble Show)
MICHAEL KATSELOS - Guitars (Segression - Gary Moore Remembered - Jayne Denham)
GREG GRIFFITHS - Bass (Jayne Denham - Matt Roberts Trio)
BORCE TODOROVSKI - Keyboards ( Original Sin INXS Show, Cold Chisel 2 Fires Show)
TONY BOYD - Drums (Mal Eastick - Simon Kinny Lewis Band – Kate Lush)

Featured songs - Still Got The Blues - Oh Pretty Woman - Walking By Myself - Out In The Fields, Wild Frontier, Over The Hills And Far Away - The Loner - Texas Strut - Midnight Blues - Boys Are Back In Town, Jailbreak, Blues For Narada, Bad For You Baby and more.