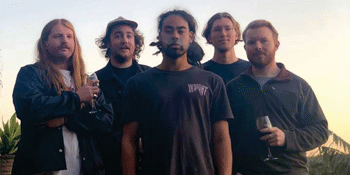 Code One
Sketchy Fancy + Dolphin Dog + Ducey Muncs + Fercho Chargie
The Heritage Hotel, Bulli (Bulli, NSW)
Friday, 27 September 2019 6:00 PM
Sketchy Fancy "Good.Bad.Happy.Sad" Album Tour.
Featuring Special Guests Dolphin Dog, Ducey Muncs, Fercho Chargie
Born from the desire to explore and perform, Sketchy Fancy carve sprays of raucous delight. Their collective experience of providing soul-filled thrills and hard-driven riffs has culminated in debut album Good.Bad.Happy.Sad.
A lucid ride through dreamy collections and heavy Zeppelins through to Super Nintendo and wasted days, this five piece from South Sydney bring contemporary psychedelica into focus for the working class. Pub rock in Palace City.
Good.Bad.Happy.Sad grins through kraut rock dalliances and experiences the blues on Venice beach, every moment a journey and documented with glee. Lead single Pub Rock draws from the storytelling of 1980's pub culture and dusts it off with a high-energy arrangement and the poignant undertones of Australian bar scenes. The choral chant of "take me home" evokes both supportive community and the toll youthful hedonism.