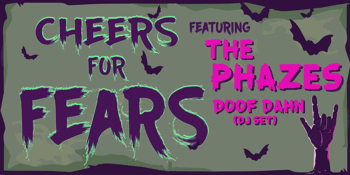 Tango Beta & The Heritage Hotel
"Cheers for Fears" feat. The Phazes & Doof Dahn
The Phazes and Doof Dahn
The Heritage Hotel, Bulli (Bulli, NSW)
Friday, 1 November 2019 6:00 pm
Come join in the devilous debauchery at the Heritage Hotel as we howl at the moon this Halloween.
Make sure your costume incorporates sensible dancing shoes because The Phazes will be rocking the house with supporting sets by Doof Dahn
There'll be halloween games to be played, prizes for the best costume and special "spooky" cocktails on offer.
Your ticket to this special event grants you 2 free drinks and a night of awesome entertainment. Early bird pricing is available for a short time so get your tickets and say Cheers for Fears!